Events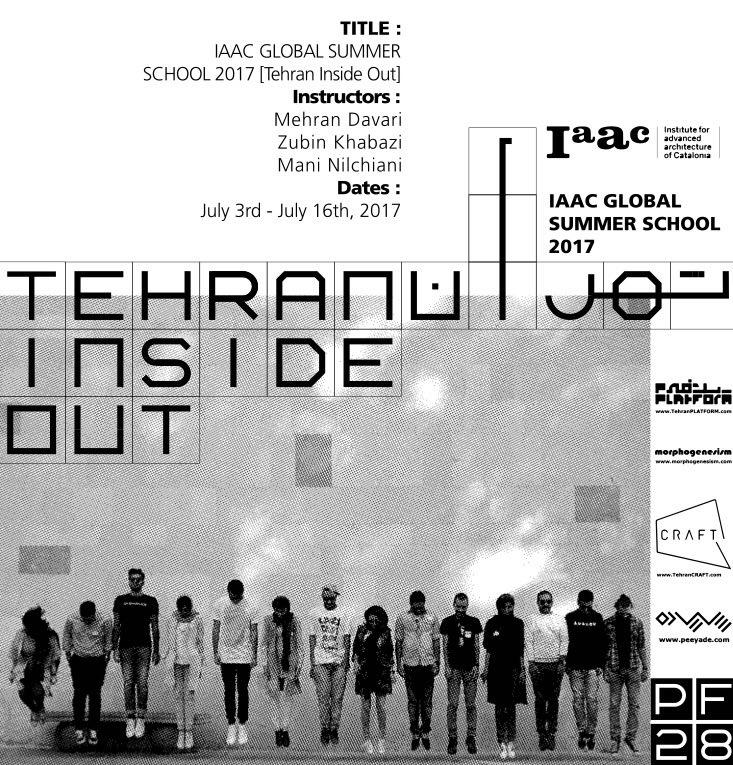 [پلتفرم 28]
شروع مدرسه ى تابستانى دانشگاه Iaac در تهران
اين مدرسه ى تابستانى در یازده شهر دنيا بر پا خواهد شد. اطلاعات بيشتر و ثبت نام در ادامه...
پلتفرم هاى برگزاركننده:
كرفت، مورفوجنسيسم، تهران پلتفرم، پياده و پلتفرم 28
مدرسين: مهران داورى، زوبين خبازى، مانى نيلچيانى
تاريخ: 12 تير لغایت 25 تير ماه
آدرس: ميدان هفت تير، خيابان مفتح جنوبى، بعد از تقاطع سميه، كوچه بور بور، خيابان خاقانى، نبش بن بست روشن منش، پلاک 28
تلفن: 09356040055

Email: این آدرس ایمیل توسط spambots حفاظت می شود. برای دیدن شما نیاز به جاوا اسکریپت دارید
About Iaac Global Summer School, 2017
Tehran, Inside Out
What defines a smart city? The fluent transmission of information? The level of awareness of what happens in its multiple layers of life/data? The way such data is being analyzed and makes feedback? An online correlation between goods, services, energies and people? These are all valid phenomena for a smart city but how such city would interact with its citizens in their day-to-day lives, for their feelings and emotions? How such city would communicate with people's "Joy" or "Sadness"? How "Anger", "Fear" or even "Disgust" is going to be observed and reflected back? What if our future smart cities could feel us, and reflect our collective emotions?
Tehran Inside Out is a step towards that level of smartness and believes that a city could have interactions with its citizens emotionally, measure it and reflect it back to their lives. A city would be a much nicer place to live if it accommodates devices that could reflect such interactions with its people. Tehran Inside Out will focus on such program with two main agendas: While at first, the gathering, transforming, analyzing and post processing the desired data needs lots of techniques and technologies, the output devices are also equally important and are going to be digitally designed and fabricated for public spaces. Designing such system would both digitally and physically is the agenda which is going to be discovered at GSS Tehran 2017.
Structure
The course will be taught by tutors from different fields structured in two subsequent phases. Over the first week of the workshop, computational design systems will be introduced in a series of intensive 'tooling-up' sessions as the basis for investigating associative design concepts and methodologies. The aim of these design exercises is to introduce expertise in open-source technologies. In a second stage of the workshop, students will develop design proposals responding to studio briefs focusing on developing new models of urban evolution.


Location
Platform 28 was founded in Tehran in 2015 as a non-profit multidisciplinary platform for art, design and architecture which creates links between Iranian and international designers, through a diverse range of projects. Almost as big as a shipping container, Platform 28 is a multifunctional apparatus that constantly changes from one function to another. These functions often vary from an exhibition space to a library or a workshop and the spatial transformation is made possible by means of mobile units.
Platform 28's interest is to find an architectural language in four specific categories: The built environment; the visual arts; wearables; and product design. These categories are curated according to our seasonal themes. Our main objective is to render architecture as a multidisciplinary field with many ways of expression that is not limited to the design of buildings and cities only.
Address: No.28 | Khaghani St | Boor Boor St | Dr.Mofateh St S |Haft-e-Tir Square
Requirements
IAAC GSS is open to creative and innovative people who are interested in fields such as architecture, urban planning, digital fabrication, arts, etc., searching for a multidisciplinary experience in an international environment. No previous skills are required.After the course, the participants will have gained theoretical and applicative knowledge about current urban innovative strategies. Moreover, they will become familiar with data visualization and the use of digital fabrication in the urban intervention.
The fee is 700 euro for the Tehran GSS and includes all material costs needed for the course. No additional registration fee is required. Flight tickets, accommodation and food are not included in the fee. The fee for student with valid student ID is 550 euro.
Non Iranian applicants should be aware that a visa may be required. Each participant is responsible to investigate what documents are required via the embassies in their country of origin.
Application
In order to register to the Global Summer School, participants need to submit the online application form, where they will be asked to upload a letter of intent and a CV. Portfolio is not required. The applications are open until the 26th of June 2017.
Click on the link below to register
Apply Now
More details
website: http://globalschool.iaac.net/tehran/